My employer has been doing business with ABQ Manufacturing for many years – much longer than I've been with my employer. From my personal experience, working with Adam, Bruce, and their entire team is great! They provide great customer service, great quality of work when it comes to powder coating our materials, quick turnaround times, and are very responsive. It's always a pleasant experience from quotes to delivered goods. I highly recommend ABQ Manufacturing for any powder coating and painting needs!
ABQ Manufacturing has provided quality work for us for many years. The turn around time is quick and Bruce has always helped us with rush orders. Professional, quality work and great service. I highly recommend this company for their services.
I have worked with Bruce & his team for several years and in every instance they have made my sculpture more beautiful. Whether using multiple colors or a single powder coat, the finish is perfect and my collectors love it! They are gracious, caring and super responsive.
Ray Cravey, Alpha-Omega Power Technologies, ABQ has been great, Bruce and Adam have always done a good job for us. When we get in a bind, they always come through for us.
Bruce and his crew have helped us out on a few unusual jobs with fair pricing and professional results. Really look forward to working with them.
Great pricing, always accommodate rapid due dates with excellent quality!
Highest quality with the best customer service!
We're so happy with the quality of powder coating that ABQ Manufacturing has provided us. They're fast, well priced, and easy to work with- everything you want in a vendor!
Our company brings many metal components, brackets, flat lid sections and extrusions to Abq Mfg. They get blasted, etched coated and baked within days. The finish is sharp and complete. These are great folks to work with, I like em and you will too. Sincerely, Bob Rose, Pelican Pools Llc
Bruce and Adam exhibit an extremely high level of customer service. They do what they say and deliver on schedule every time. I've given them roughly 25 orders in the last 3 years and they're batting 1,000. The quality of workmanship is evident in every costs piece. I wouldn't go anywhere else for powder coating!
Good guys. The only decent place for powdercoat in the city.
I am always needing a small job done in a big hurry. Bruce makes it happen every time!
We have been working with ABQ for about 10 years and have no plans to work with anyone else.
Very pleased with the results! Bruce was very easy to work with and the whole process was smooth and efficient. I'll be bringing more parts to get finished in the near future.

ABQ Manufacturing is very efficient, very quick and they do a good job. We are very satisfied with them.

Here at Deluxe Design we are very pleased with the business relationship we share with ABQ Manufacturing. We have found their service to be dependable, friendly, and open over the years. They are able to meet our quality standards and our very tight timelines. They are first class and they are also simply great people to work with every day. Their attention to detail and willingness to listen to our needs is extremely important to our company. We are in the service business and know what customer service needs to be today and I would rate ABQ Manufacturing "OUTSTANDING"!!

Jane and I wanted to send this letter of thanks for the wonderful job you did on the two sculptures by Travis Constance. We were absolutely delighted with the end results and we greatly appreciated the continued diligence and care you took throughout the project. Please pass on our thanks to all of your staff. We won't hesitate to recommend both you and your company to other galleries and people in Santa Fe. Thanks again.

I'd be happy to tell everyone how great y'all are.

Over the years TUF – Trucks Unique Fabrication has assisted our customers in the design of bumpers, headache racks, cargo racks and other custom creations. Once the projects are ready, we place our trust in ABQ Manufacturing to apply a high quality powder coat finish. They provide great customer service and perform a stellar job in a short period of time which results in happy customers and keeps us coming back. Thanks ABQ Manufacturing!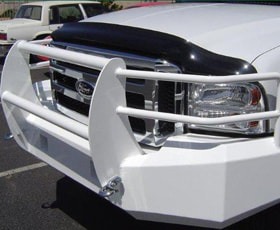 ABQ Manufacturing, Inc. is a unique group of dedicated professionals.  Their work is consistently excellent, always on schedule, and reasonably priced. They impress me more with each new project.  I admire their confidence and willingness to meet new challenges.  I should add – ABQ Manufacturing Customer Service is top notch.

ABQ Manufacturing makes it possible for me to meet the high standards I set for myself and adds to the quality and beauty of my "Shadow Sculptures." As in all business, price and reliability are important factors to success! ABQ Manufacturing provides me with both of these essential factors on a regular basis. ABQ Manufacturing is excellent to work with and I would recommend them to anyone who needs their services.

 Just wanted to drop you a note to tell you how happy I am with the job ABQ Manufacturing did for me. Everyone there was easy to deal with and did what they said they would, plus a great job. I am really happy with it. In all the people, firms, I deal with, both in my business and with my car project, it's unbelievable how many people don't give a darn. You all obviously do and I appreciate it! Thanks.

Beautiful work. Great job. Thanks!

I came to you because of the quality and there is a huge convenience factor for me.  Dropping by nearly every day saves me very valuable time.  Staying here and doing my job pays for the work.

ABQ Manufacturing's work quality and commitment to its customers is the best we have found. We have never had an issue with their work quality and the time frame in which they make delivery. We are a government contractor and are always pressed for dead lines and ABQ Manufacturing has never let us down. I would personally recommend them for any and all powder coating.

A quick thank you for the great job you did on the light fixture.

I'd like to take this opportunity to let you know we appreciate the excellent work you have done for us over the past ten years and presently. ABQ Manufacturing, Inc. has demonstrated continuous process and quality improvement and excellent customer service. We value your power coating and masking expertise, yet you maintain excellent quality and on time delivery. You have responded in a timely manner to our inquiries.